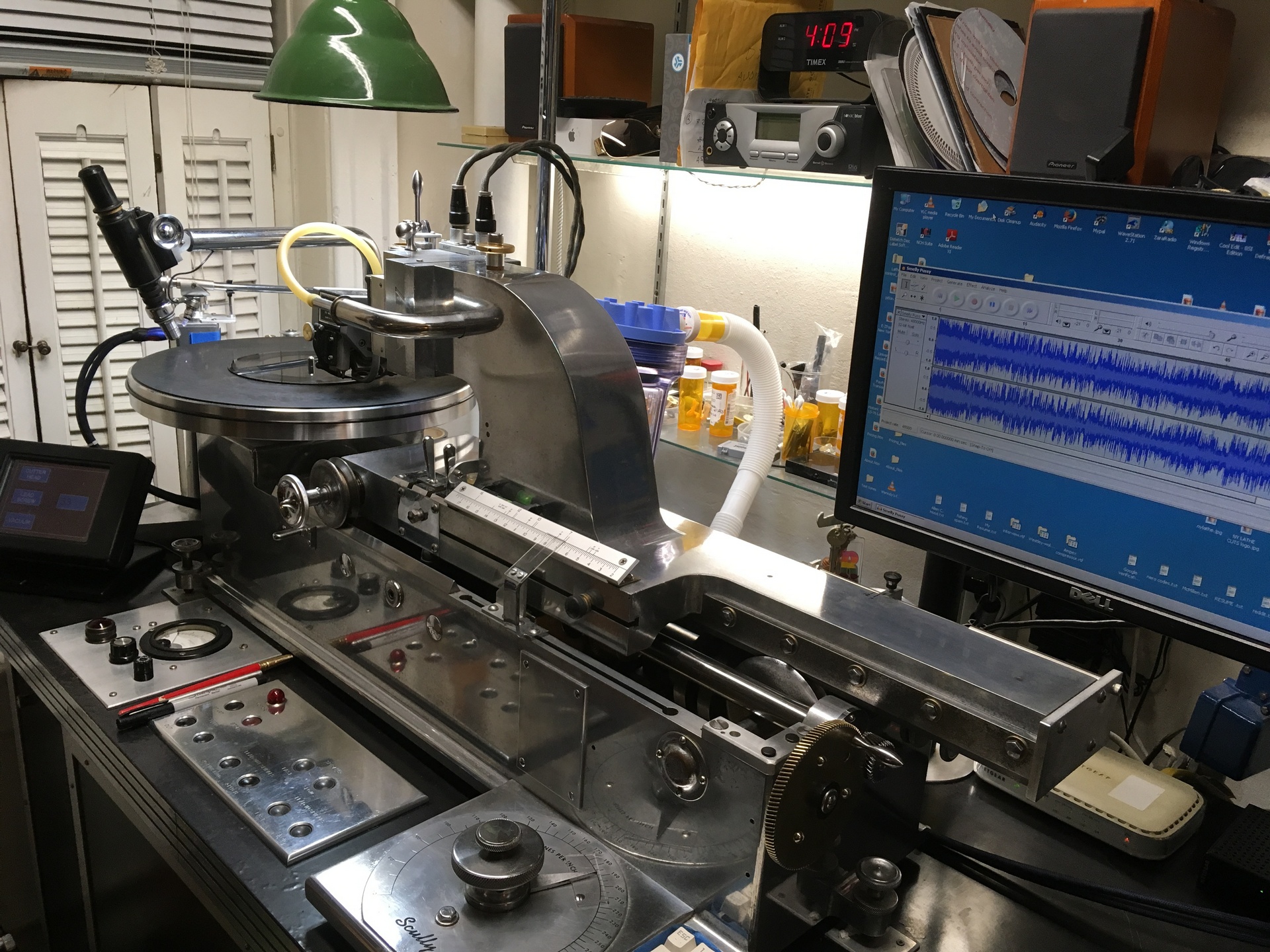 LATHE CUT RECORDS - VINYL LATHE CUTS

Making Records This Way Is A Game Changer
CREATE YOUR OWN RECORDS - FAST TURNAROUND 2 DAYS

Lathe Cut Vinyl Records Good Enough For Jazz And Classical Music
Sound Good As Pressed Vinyl Records

How do they sound?
The sound reproduction is good as pressed vinyl records using my exclusive sapphire embossing stylus.
Our lathe cuts are embossed with a sapphire cone stylus on our Scully cutting lathe.

Producing silent grooves having a full frequency range from 20Hz to 14Khz. High frequencies at 15Khz to 20Khz are filtered out. Embossed Discs are not recommended for DJ work or DJ scratching. Only pressed vinyl and lacquer acetates will work for that purpose.

Vinyl And Polycarbonate:
They are two different things, one is "vinyl" and the other is "polycarbonate", Pressed vinyl records with no grooves can't be embossed. It may be possible to be cut it with a diamond stylus, but a very costly process, especially the amount of time a diamond stylus last, only 10 hours, at $200 a pop. Polycarbonate can be cut or embossed.

Embossed Lathe Cut Pros:
Less expensive than lacquer and diamond cut.
Excellent audio quality 20Hz -14Khz Very low surface noise at - 40db Good silent grooves. Good enough for Jazz and Classical music. Great for for one-off short runs.

Embossed Lathe cuts Cons:
Not recommended for DJ work or DJ scratching - May not play on inexpensive turntables and jukeboxes.

Can't be cued and dose not play backwards with any magnetic cartridge. Ceramic cartridge like Astatic XT91 or 89T will play backwards. A warned out stylus will skip - An elliptical playback stylus may or may not work. Lower audio volume -10db - Skips easily if recorded louder, with no stereo separation.

Lacquer Acetate Disc:
The aluminum lacquer coated discs, also made one at a time, using a stereo or mono cutting lathe.
This method has long been used for producing lacquer masters, which are then used to make metal stampers for pressing vinyl.

Most of the machines used for this purpose were manufactured pre -1960. These lathes were used in the production and anufacturing process for vinyl records. Cutting a lacquer master discs, was then electroplated to make the metal stampers used by the pressing plants.

Plexi can not be cut or embossed with a sapphire or diamond stylus. On the other hand a lacquer disc can only be cut with a sapphire stylus, it is not possible to embossed lacquer.

Stereo HI-FI Lacquers can be in stereo or mono, a lacquer done with a stereo cutter head will result in a great stereo playback. Embossing a polycarbonate disc with a stereo cutter head will result in a MONO play back with a very small amount of stereo separation and it will skip badly when playing it back.

Sibilant Vocal Tracks De-essing Is any technique intended to reduce or eliminate excessive highs in the recording or the prominence of sibilant consonants, such as the sounds normally found in the vocal track by "s" and "sh", in recordings of the human voice.

Sibilant lies in frequencies anywhere between 2–10 kHz, depending on the individual's dental work. This causes havoc in cutting. Playing lathe cuts with a magnetic cartridge, no problem.

Recommended cartridges:
Stanton, Audio-Technica, Shure, ADC, Etc. try different turntables if you have a skipping problem
Set the Anti skating for best results.

Embossed discs will not play backwards with a magnetic cartridge. A warned out needle will tend to skip. Turntables that don't have a counter weighted tone arm may not work. A heavy tone arm will tend to skip more.
Crosley or inexpensive turntables may or my not work. A magnetic cartridge is more preferable. Embossed lathe cut records that are recorded louder tend to skip more. Playback stylus pressure no more than 3.5 grams. Use only conical or spherical. An elliptical stylus may not work.

Links to my other sites: